Revolutionary Self-Inflating Air Mattress

guarantees a comfy sleep
Constant Comfort™ Pump Technology

promises a firm bed all night
A Comfy Air Mattress

perfect for quiet contemplation
Revolutionary Self-Inflating Air Mattress
guarantees a comfy sleep
Constant Comfort™ Pump Technology
promises a firm bed all night
A Comfy Air Mattress
perfect for quiet contemplation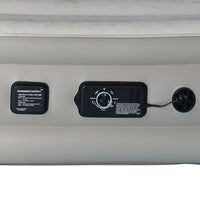 ConstantComfort Built-in Pump
Our patented, ConstantComfort™ dual pump is the breakthrough technology customers have been looking for in the world of air beds.
When you drift off to sleep, our sensors stay awake constantly monitoring the air pressure.  If at any point the air levels start to go down, a second pump takes over, silently refilling the air mattress to your preferred comfort level, leaving you with a great night's rest.
EZ Bed Self-Inflating Air Mattress w/ Built-in Frame, Pump & Wheeled Case
Handy Air Mattress with Built-in Frame
Simply unzip the EZ Bed from the convenient and compact wheeled storage case, roll it out, plug it into any standard outlet and turn the dial on the built-in pump to "inflate". The bed will automatically inflate in less than 3 minutes so you will be counting sheep in no time.
Made of strong and durable PVC, this self-inflating air mattress can withstand up to 500 pounds of weight. With 16 powder-coated steel legs, the bed provides a solid and secure base, allowing you to sleep and relax with peace of mind. Plus, the air bed inflates to a standard 24-inches in height, making it easy to lie down and get up, and helping to ensure no one is disturbed when there's more than one person in the bed.